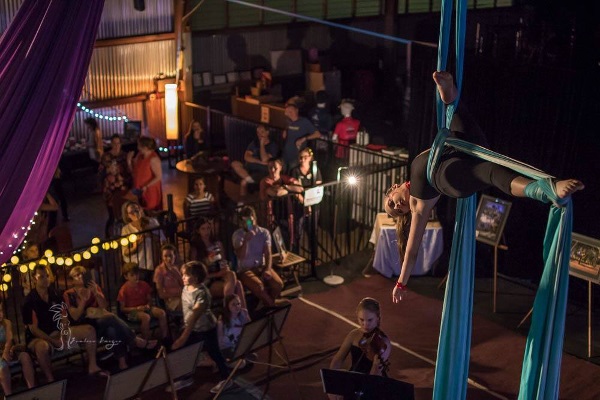 A fun and exciting new class focusing on performance tumbling, aerial silks and trampoline.
Work with our Advanced Tumbling coaches in a safe environment to learn and perfect gymnastics and dance floor skills including front and back handsprings, walkovers, front and side aerials, saltos and twisting.  Our Aerial silks add a twist for those wishing to practice the art and build strength. 
Tumbling development in the use of correct technique utilising a range of equipment including sprung floor, Air Floor, Tumble Track, Trampolines.   Our Gym is flush with Safety Matting and resources to aid in the safe development of skills. 
The intended Age Range is 11 years + however may vary depending on any prior experience. 
Classes Run:
Saturday: 2:00 to 3:15pm.
Tuesday: 7:15 to 8:30pm.  
Classes cost $25 per class or you can buy a 10 class pass for $225 and also get the 11th class free!
Annual Student Membership applies at a cost of $70 per year.
Enrolments are Essential. Follow our guide on How to Sign up for Gymnastics Classes here.
Other North West Gymnastics Acro and Tumbling Recreational Classes;
You can learn more about Acro Gymnastics here or check out our other programs on our Our Classes page here, including our Timetable and Calendar.
#nwgacro, #nwgtumbling, #mountisaacro, #mountisatumbling, #nwgaerials, #nwgmountisa, #nwgcasual
---
You can find information on Our Classes here, including our Timetable and Calendar.
Make sure you follow us on Facebook or Instagram to stay up to date with News, Events and Programs
#nwgmountisa #northwestgymnastics #mountisagymnastics #mountisaacro #mountisatumbling #mountisaacrobatics #nwg #mountisa #gymnastics North West Gymnastics Mount Isa