2020 Term 4 Classes Commence
We are excited to announce Term 4 Commences on Tuesday the 6th October and runs through to the 6th December.
New Members are welcome to join at anytime during the term.
Our Website contains all the details on Our Classes otherwise scroll down for the Class Timetable and Pricing.
Our North West Gymnastics Term 4 Timetable
North West Gymnastics Class Prices
Please note that the below table is for single classes only. Class prices reduce for families and kids with multiple classes.
North West Gymnastics Class Pathways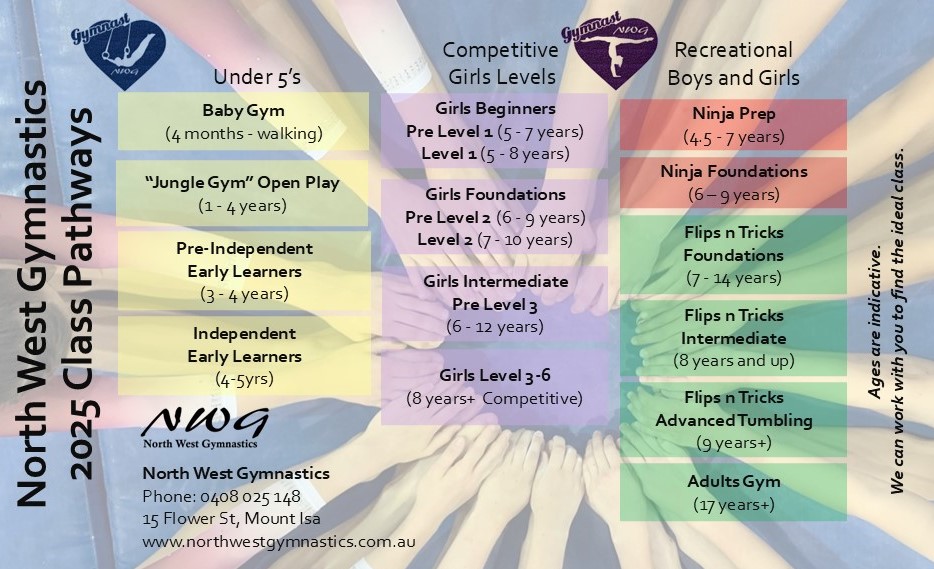 North West Gymnastics 2020 Annual Calendar
---
You can find information on Our Classes here, including our Timetable and Calendar.
For enrolments please see our Parent Portal.
Make sure you follow us on Facebook or Instagram to stay up to date with News, Events and Programs
#nwgmountisa #northwestgymnastics #mountisagymnastics #mountisaacro #mountisatumbling #mountisaacrobatics #nwg #mountisa #gymnastics North West Gymnastics Mount Isa