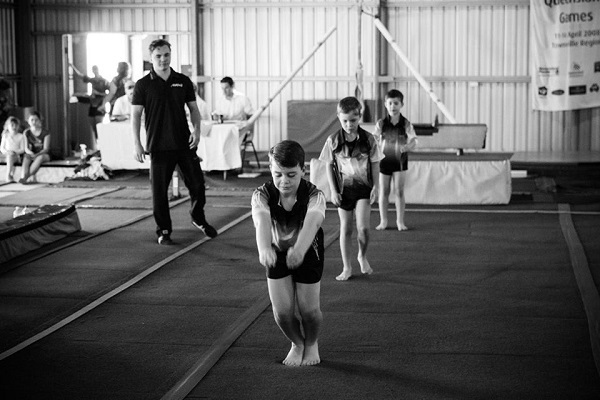 Men's Artistic Gymnastics at North West Gymnastics.
Our Boys programs are fun, fast paced with a focus on harnessing their energy, improving their co-ordination, challenging their strength and agility, developing their core stability. We also focus on fitness and fundamental movement, teaching skills like running, jumping and landing, Flip and fall, swinging, climbing, rolling, balancing and we teach them to do it safely.
We teach them to take risks in a safe environment. We assist boys to develop the skills to help them enjoy the freedom that being physically active allow. Our boys are taught to breakdown their dreams into smaller more manageable chunks rather than huge, overwhelming goals.
Following on from a start in Early Learners we have a number of class options:
All participants have the opportunity for in-house fun competitions/performances as well as Invitational Competitions out of Mount Isa.

---

Men's Artistic Gymnastics channels masculine energy to develop power, strength and control. Mastery of the six apparatus requires the skilful combination of flips, balance, stretch, spin and landings.

Men's Artistic Gymnastics

Builds strength and prepares the body for the challenges in life
Enhances co-ordination and agility, allowing the body to move like lightning
Develops posture and confident body movement, including the ability to land safely
Challenges the mind and body to reach new goals
Develops healthy minds and bodies for now and later life

Experience Men's Artistic Gymnastics and feel the exhilaration of being in control as you fly and swing. It is the perfect sport for focus and self-discipline. Develop your skills for fun and fitness or challenge yourself further through competitions from local to national and even international level. There are six competitive apparatus in Men's Artistic Gymnastics (MAG):

Floor

An exercise in pure acrobatics, alternating between powerful tumbling series and the composure necessary for balance and strength elements.

Pommel Horse

Routines mostly involve circles of the legs together and pendulous, scissor swings with the legs split, spectacularly combining these movements while turning and travelling along the horse.

Rings

Difficult combination of strength and swinging elements requiring control, strength and balance in the forward and backward swings and strength holds.

Vault

A 25m sprint creates the necessary power to explode from the board before the dynamic push off the table, to generate greater height for rotations and flight before landing on the other side

Parallel Bars

Routines require swinging above and below the bars with acrobatic flight, changes of directions and precise balances, ending in a dramatic dismount off the side or the end of the bars.

Horizontal Bar

A spectacular apparatus, largely due to the combination and variation of giant swings, acrobatic releases and re-grasp flight elements. The high dismounts from the bar allows the gymnast to show his acrobatic talents and landing prowess.   Men's Artistic Gymnastics is governed internationally by the Federation Internationale de Gymnastique (FIG).

---

You can find information on Our Classes here, including our Timetable and Calendar and Club Handbook.

For enrolments and class bookings please see our Parent Portal.

Birthday Parties can still be requested via our Website

Make sure you follow us on Facebook or Instagram to stay up to date with News, and Events.

Mount Isa Mining Supplies - copy

Accor Feel Welcome North West Gymnastics Mount Isa NWG Sponsor - copy

Procoat Logo NWG Mount Isa Gymnastics nwgmountia

local search logo NWG nwgmountisa mount isa north west gymnastics little legends - copy

Vida Images NWG nwgmountisa logo mountisa

ibis styles NWG North West Gymnastics Mount Isa nwgmountisa Accor Hotels - copy

MIPAC Support for North West Gymnastics NWG Mount Isa - copy

NWG Gymnastics Mount Isa Adels Grove Logo - copy

Cava Hydraulics and Auto Electrics

NWG Gymnastics Mount Isa BARKLY HIRE LOGO

Roger Locke Mount Isa Logo - copy

Health Fist Group Mount Isa - North West Gymnastics

Mount Isa Mining Supplies

Accor Feel Welcome North West Gymnastics Mount Isa NWG Sponsor - copy

Procoat Logo NWG Mount Isa Gymnastics nwgmountia

NWG Gymnastics Mount Isa BARKLY HIRE LOGO - copy

Accor Feel Welcome North West Gymnastics Mount Isa NWG Sponsor

Mercure Hotels Townsville North West Gymnastics Mount Isa

local search logo NWG nwgmountisa mount isa north west gymnastics little legends

#nwgmountisa #northwestgymnastics #mountisagymnastics #mountisaacro #mountisatumbling #mountisaacrobatics #nwg #mountisa #gymnastics North West Gymnastics Mount Isa