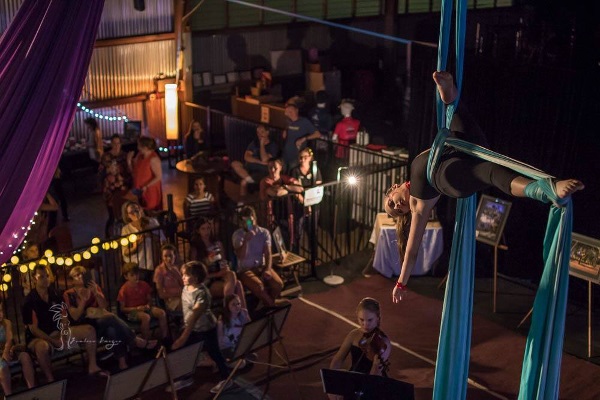 North West Gymnastics has teamed up with some fantastic organisations at our Flower Street venue to offer you and your family something for all!!!
Our Partners
Mount Isa Women's Self Defence
Isa Enpointe Dance Studio
Six Foot Circus

Providing women's self-defence classes, including practical and theoretical knowledge with a focus on Mount Isa.

Contact Nadia at:
nadiarmarshall@gmail.com, via the Mount Isa Women's Self Defense Facebook Page or call: 0407 735 679

Isa Enpointe Dance Studio offers classes including:

Classical Ballet,
Hip-Hop (Boys/Girls),
Jazz,
Kinder Dance
Contemporary

Contact Steph at:
isaenpointedance@gmail.com, via her website, or the Isa EnPoint Dance Studio Facebook Page

Looking for some unique and elegant entertainment for your event? Six Foot Circus offers performances and workshops in the art of aerial dance. The business is owned by Sabella Fuss, an experienced physical performer who performs on multiple aerial circus apparatuses, including silks, rope and trapeze. For more information and to request a quote for your event.

Contact Sabella at sixfootcircus@gmail.com, or via the Six Foot Circus Facebook page.

Little Sparklers
Kanga Training Mount Isa
North West Gymnastics

Little Sparklers is the next step in changing the way families are supported in society as they raise their young babies and children.

Little Sparklers has grown from the work being done in the peer support group, The Beyond Sleep Training Project that Carly Grubb started back in January 2017.

KANGATRAINING is the ultimate postnatal workout for Mums & Bubs. Baby spends most of the class in a sling/carrier, where they usually fall asleep with the rocking motion of movement to music. A complete dance based workout during which both cardiovascular endurance/flexibility and muscular capacity/strength are enhanced.

Mothers who have "successfully completed" a postnatal checkup (6- 10 weeks following a normal birth or 12 weeks post caesarean section) are welcome to join us!

Contact Amy via the Kangatraining Mount Isa Facebook Page
—————–
Keen to Partner with North West Gymnastics? We would love to talk with you! We have a dance studio, sprung floor area and facilities that we love to share. Looking for a venue for a term or even a day here or there.
Contact Kylie at:
info@northwestgymnastics.com.au, via the North West Gymnastics Facebook Page or call: 0408 025 148
---
You can find information on Our Classes here, including our Timetable and Calendar.
For enrolments please see our Parent Portal.
Make sure you follow us on Facebook or Instagram to stay up to date with News, Events and Programs
#nwgmountisa #northwestgymnastics #mountisagymnastics #mountisaacro #mountisatumbling #mountisaacrobatics #nwg #mountisa #gymnastics North West Gymnastics Mount Isa