Women's Artistic Gymnastics at North West Gymnastics.
Women's Artistic Gymnastics is our foundation here at North West Gymnastics.
A challenging sport renowned for its benefits in the development of girls both physically and mentally. Our focus in on individual progress and effort and making sure that each girl that walks into a class walks out a better gymnast and a better person. We are passionate about developing growth mindset in all our girls and teaching them the power of YET. This one small word completely flips the focus towards improvement no matter how small.
Membership with our club provides an opportunity for in-house fun competitions/performances as well as Invitational Competitions out of Mount Isa.
Competition attendance is highly recommended for competitive gymnasts with potential for qualification at Regional and State Championships at level 3 and above.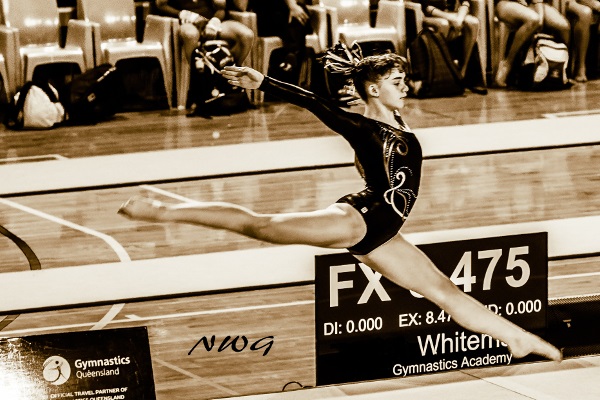 For best results gymnasts should attend the recommended class numbers.
Girls Beginners for 5-8 year olds starting from Prep or Grade 1 no experience necessary but suited to girls who have completed our Early Learners program.

Recommended 1-2 classes per week.

Girls Foundations for girls 6-7 years and up with no experience necessary although a start in our Girls Beginners is required for 6 year olds. The perfect class for girls who love to handstand and want to learn to cartwheel and a great introduction to our women's gymnastics program.
Girls Intermediate for 7-9+ years and up this class is for those girls that have advanced from Girls Foundations are training Level 2 and working towards Level 3.
Girls Level 3: Recommended 3+ classes per week. Supplement with a recreational class such as Flips and Tricks – Foundations, or Flips and Tricks – Intermediate.
Girls Level 4: Recommended 3-4+ classes per week. Supplement with a recreational class such as Flips and Tricks – Intermediate.
Girls Level 5+: Recommended 4+ classes per week. Supplement with a recreational class such as Flips and Tricks – Intermediate.
Class Pricing
Class Costs on enquiry. Our class costs vary depending on the contact hours selected with hourly charges reducing as contact time increases.
Annual Student Membership of $70 for Levels 1-2 (Beginner, Foundations and Intermediate), $90 for Level 3 upwards.
What to Wear
Gymnasts in our competitive programs should wear;
Girls: Leotards, Crop sets with bike pants, leggings or sports shorts are required for all training sessions. Leotard and bummers are preferred.
Please bring a large water bottle
Enrolments are Essential. Enrol today via our Parent Portal
You can find a full overview of Our Classes here and our Timetable and Calendar here.
Individualised Competitive Discounts are available on application.
You can find our page on Girls Routine Resources here for kids wishing to see examples of and learn their routines – please contact us for access.
You can find information on North West Gymnastics Competition Season here.
---
Women's Artistic Gymnastics is a creative blend of daring and control; powerful yet refined, elegant yet strong. Mastery on the four apparatus requires skills that flip, balance, swing and soar.
Women's Artistic Gymnastics (WAG)
Women's Artistic Gymnastics is the perfect sport to teach your daughter co-ordination and confidence, develop creativity and contribute to her general health and fitness.
Enhances co-ordination and agility, for body awareness and balance
Develops posture and confident body movement, including the ability to land safely
Enhances creativity and builds self-confidence, for sport and life
Develops strength and flexibility, for life's constant challenges
Develops healthy minds and bodies for now and later life
Give your daughter the right start in life. Let her experience Women's Artistic Gymnastics and watch her grow into a happy, healthy and responsible young adult.
Watch Women's Gymnastics on YouTube:
Women's Artistic Gymnastics is for women and girls of all ages. Develop your skills for fun and fitness or challenge yourself further through competitions from local to national, right through to international level. The four competitive apparatus in Women's Artistic Gymnastics are:
Vault
A 20m sprint to the vaulting table followed by springing onto and off the hands and landing perfectly on the other side. Extra rotations at any point increase the difficulty.
Uneven Bars
Requiring strength, precision, rhythm, concentration and courage; the gymnast moves from one bar to the other, alternating grip changes, releases and regrasps, saltos and changes of direction with circular swings.
Beam
Balance at its most extreme, adding an extra element to the acrobatic sequences, gymnastic jumps and turns. It is an exercise not only of flexibility, but also of concentration, rhythm and expression.
Floor
A creative combination of expressive dance, daring acrobatics and powerful gymnastics performed to music, where each gymnast communicates her own personality and style.
Women's Artistic Gymnastics is governed internationally by the Federation Internationale de Gymnastique (FIG).
---
You can find information on Our Classes here, including our Timetable and Calendar and Club Handbook.
For enrolments and class bookings please see our Parent Portal.
Birthday Parties can still be requested via our Website
Make sure you follow us on Facebook or Instagram to stay up to date with News, and Events.
Mount Isa Mining Supplies - copy
Accor Feel Welcome North West Gymnastics Mount Isa NWG Sponsor - copy
Procoat Logo NWG Mount Isa Gymnastics nwgmountia
local search logo NWG nwgmountisa mount isa north west gymnastics little legends - copy
Vida Images NWG nwgmountisa logo mountisa
ibis styles NWG North West Gymnastics Mount Isa nwgmountisa Accor Hotels - copy
MIPAC Support for North West Gymnastics NWG Mount Isa - copy
NWG Gymnastics Mount Isa Adels Grove Logo - copy
Cava Hydraulics and Auto Electrics
NWG Gymnastics Mount Isa BARKLY HIRE LOGO
Roger Locke Mount Isa Logo - copy
Health Fist Group Mount Isa - North West Gymnastics
Mount Isa Mining Supplies
Accor Feel Welcome North West Gymnastics Mount Isa NWG Sponsor - copy
Procoat Logo NWG Mount Isa Gymnastics nwgmountia
NWG Gymnastics Mount Isa BARKLY HIRE LOGO - copy
Accor Feel Welcome North West Gymnastics Mount Isa NWG Sponsor
Mercure Hotels Townsville North West Gymnastics Mount Isa
local search logo NWG nwgmountisa mount isa north west gymnastics little legends
#nwgmountisa #northwestgymnastics #mountisagymnastics #mountisaacro #mountisatumbling #mountisaacrobatics #nwg #mountisa #gymnastics North West Gymnastics Mount Isa