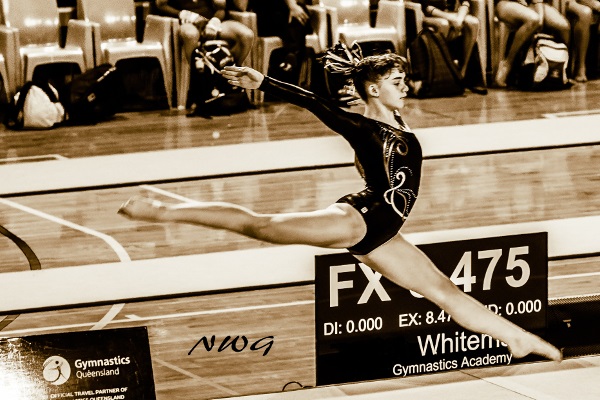 North West Gymnastics offers a wide range of programs and classes to suit all ages and abilities.
Based in Flower Street Mount Isa, North West Gymnastics is strongly supported by its members, parents and families.
We love our sport and the teaching of safe technique in a fun and safe environment.
North West Gymnastics is a family owned Club.  Kylie and Richard both have a passion for the sport with their 3 kids being active in Gymnastics.
Kylie works as both the Club Manager and Senior Coach focused on the quality and delivery of all our programs. Kylie has a particular passion for building educational aspects into our Under 5's programs. Kylie holds accreditations in Kindergym, Launchpad, Gymnastics for All (GfA), Acro Gymnastics, Women's (WAG), Men's (MAG) and Advanced Tumbling.
Richard is our Head Coach and manages the personal development plans of the gymnasts, technical aspects of the programs and our club and gymnasts competition objectives. Richard holds Advanced Silver and International Federation accreditations in Women's Gymnastics, Advanced accreditations in Men's Gymnastics, Gymnastics for All, Tumbling and Acro Gymnastics amongst others.
Our Club is affiliated and our amazing coaches are trained and accredited with Gymnastics Australia and Acrobatic Arts. Our coaches are experienced in a wide range of Gymsports including Women's Artistic, Men's Artistic, Acro Gymnastics, Trampoline and Tumbling to an Advanced+ level.
Our under 5's programs are Fun and Educational with programs including Jungle Gym, Mini Movers and Early Learners. Mount Isa Teachers have praised us for the positive influences our classes have on the Kids in School and in settling into School.
Our Recreational programs including; Activebods, Acro Foundations and Gym Skills, Intermediate Acro, Tumbling and Aerials, Aerials and Tumbling, Advanced Acro and Tumbling, and Adults Gymnastics are designed for those who just want to have some fun, learn or extend their skills in a safe environment.
We pride ourselves on offering the Highest Quality Competitive program in the region with our Gymnasts performing strongly in Regional and Coastal Competitions.
We also offer personal and customised training services, targeted development and goal setting for athletes, dance students and more.
We know your children will benefit through general health, socially and through commitment, discipline, motor skills, balance, coordination and strength.
Find out more about Our Classes or our Timetable and Calendar here.
Follow our guide on How to Sign up for Gymnastics Classes here.