Women's Artistic Gymnastics at North West Gymnastics.
Women's Artistic Gymnastics is our foundation here at North West Gymnastics.
A challenging sport renowned for its benefits in the development of girls both physically and mentally. Our focus in on individual progress and effort and making sure that each girl that walks into a class walks out a better gymnast and a better person. We are passionate about developing growth mindset in all our girls and teaching them the power of YET. This one small word completely flips the focus towards improvement no matter how small.
Membership with our club provides an opportunity for in-house fun competitions/performances as well as Invitational Competitions out of Mount Isa.
Competition attendance is highly recommended for competitive gymnasts with potential for qualification at Regional and State Championships at level 4 and above.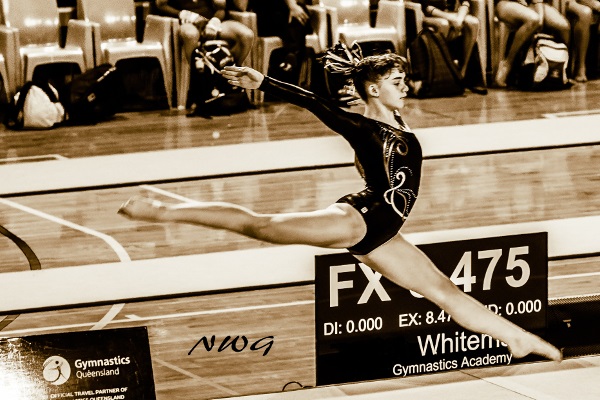 Girls Recreational Gymnastics Classes
Please see our Timetable here for class times.
Pre-Levels are also used between the levels to assist in progression. For best results gymnasts should attend the recommended class numbers.
Enrol or waitlist here: Girls Gymnastics Class Enrolment
Girls Beginners (Pre-Level 1) for 5-7 years starting from Prep or Grade 1 no experience necessary but suited to girls who have completed our Early Learners program.
Recommended 1-2 classes per week. Option to supplement with a recreational class such as Ninja.
Classes cost $20 per 50 minute class
Girls Level 1 for girls 5-8 years with no experience necessary although a start in our Girls Beginners is required for kids younger than 6 years. The perfect class for girls who love to handstand and want to learn to cartwheel and a great introduction to our women's gymnastics program.
Girls Foundations (Pre-Level 2)
Girls Foundations (Level 2) for 7-10 years and up this class is for those girls that have advanced from Girls Level 1 are training Level 2 and working towards Level 3.
Girls Intermediate (Pre-Level 3)
Girls Competitive Gymnastics Levels
Girls Competitive Level 3: Recommended 3+ classes per week. Supplement with a recreational class such as Flips and Tricks – Foundations or Intermediate.
Girls Competitive Level 4: Recommended 3-4+ classes per week. Supplement with a recreational class such as Flips and Tricks – Intermediate or advanced .
Girls Competitive Level 5+: Recommended 4+ classes per week. Supplement with a recreational class such as Flips and Tricks – Advanced .
Class Pricing
Competitive Level 3 and up class costs on enqiry. Our class costs vary depending on the contact hours selected with hourly charges reducing as class times and the number of classes increases.
NWG offer Competitive Program Offsets for families who offer support to the club.
Annual Student Membership of $70 for Levels 1-2 (including beginners, foundations, intermediate and pre-levels), $90 for Competitive Level 3 upwards.
What to Wear
Gymnasts in our competitive programs should wear;
Girls: Leotards, Crop sets with bike pants, leggings or sports shorts are required for all training sessions. Leotard and bummers are preferred.
No loose clothing please.
Please bring a large water bottle
Enrolments are Essential. Enrol today via our Parent Portal
You can find a full overview of Our Classes here and our Timetable and Calendar here.
You can find our page on Girls Routine Resources here for kids wishing to see examples of and learn their routines – please contact us for access.
You can find information on North West Gymnastics Competition Season here.
---
Women's Artistic Gymnastics is a creative blend of daring and control; powerful yet refined, elegant yet strong. Mastery on the four apparatus requires skills that flip, balance, swing and soar.