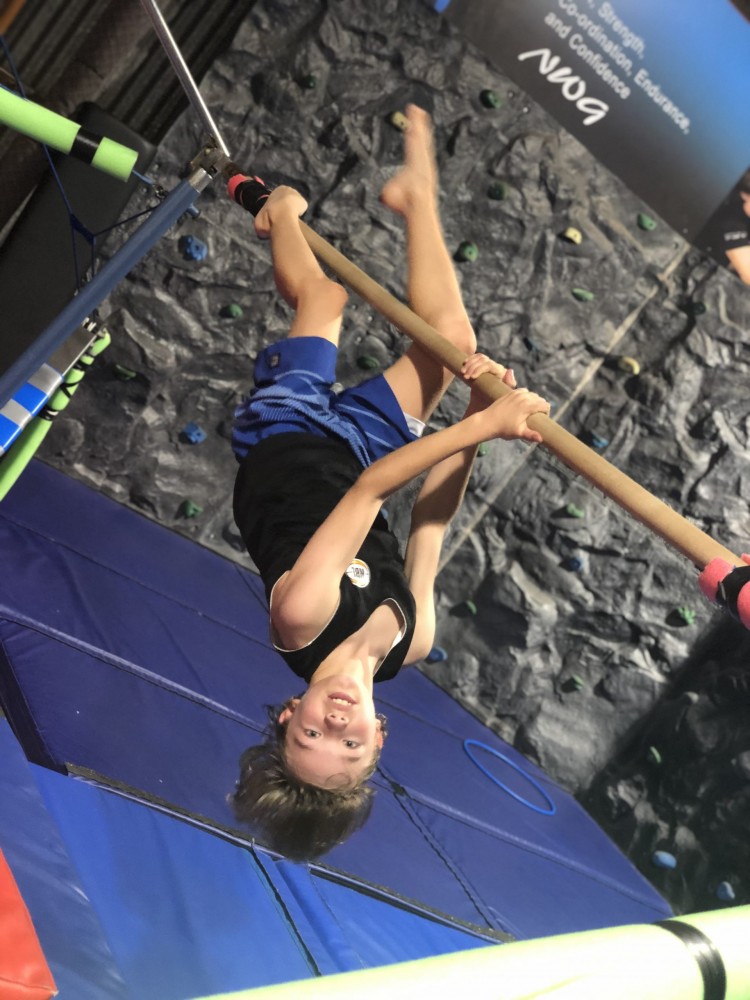 TNT – Tramp Ninja and Tumbling
A Fun and Recreational Trampoline, Ninja and Tumbling Class for Girls and Boys aged 8 years and up.
We've packed our classes with loads of fun including:
Ninja,
Precision Jumping,
Obstacle Courses,
Rock Climbing,
Rope Swings and,
Trampoline!
Not only will your kids get to experience Gymnastics including Rings, Pommel, Floor, Bars, Vault, Beam and Parallel Bars but they will get to do the activities they love in fun, safe and progressive learning environment.
Our gym is packed with features from an Olympic trampoline, Double Mini Tramp to air floors, to Rock Climbing and everything in between. Why not check us out today.
Classes Run on Thursday 5:45 to 7:00pm.
Classes cost approx. $25 per class on an ongoing basis. Class attendance can be cancelled at any time with 2 weeks prior notice.
Annual Student Membership of $70 applies.
Enrol today via our Parent Portal
Looking for something for kids aged 4.5-8 years? Check out our Ninja Foundations class.
What to Wear and Bring
Gymnasts should wear comfortable, close fitting clothing during classes as listed below.
Girls: Any leotard, crop or singlet and sports shorts or tights.
Boys: T-Shirt (not loose fitting) and shorts or skins/bike pants.
For safety reasons students should not wear clothing with denim, hoods, buttons, zips or belts.
Rings, Anklets, Necklaces, Watches (or similar) or any loose jewellery are not permitted in class as these pose a hazard to the participants and equipment. (medical bracelets accepted)
Please bring a water bottle
Other North West Gymnastics Acro and Tumbling Recreational Classes;
Enrol today via our Parent Portal
#nwgtnt, #tnt, #nwgmountisa #flipsandtricks
---
You can find information on Our Classes here, including our Timetable and Calendar and Club Handbook.
For enrolments and class bookings please see our Parent Portal.
Birthday Parties can still be requested via our Website
Make sure you follow us on Facebook or Instagram to stay up to date with News, and Events.
Mount Isa Mining Supplies - copy
Accor Feel Welcome North West Gymnastics Mount Isa NWG Sponsor - copy
Procoat Logo NWG Mount Isa Gymnastics nwgmountia
local search logo NWG nwgmountisa mount isa north west gymnastics little legends - copy
Vida Images NWG nwgmountisa logo mountisa
ibis styles NWG North West Gymnastics Mount Isa nwgmountisa Accor Hotels - copy
MIPAC Support for North West Gymnastics NWG Mount Isa - copy
NWG Gymnastics Mount Isa Adels Grove Logo - copy
Cava Hydraulics and Auto Electrics
NWG Gymnastics Mount Isa BARKLY HIRE LOGO
Roger Locke Mount Isa Logo - copy
Health Fist Group Mount Isa - North West Gymnastics
Mount Isa Mining Supplies
Accor Feel Welcome North West Gymnastics Mount Isa NWG Sponsor - copy
Procoat Logo NWG Mount Isa Gymnastics nwgmountia
NWG Gymnastics Mount Isa BARKLY HIRE LOGO - copy
Accor Feel Welcome North West Gymnastics Mount Isa NWG Sponsor
Mercure Hotels Townsville North West Gymnastics Mount Isa
local search logo NWG nwgmountisa mount isa north west gymnastics little legends
#nwgmountisa #northwestgymnastics #mountisagymnastics #mountisaacro #mountisatumbling #mountisaacrobatics #nwg #mountisa #gymnastics North West Gymnastics Mount Isa