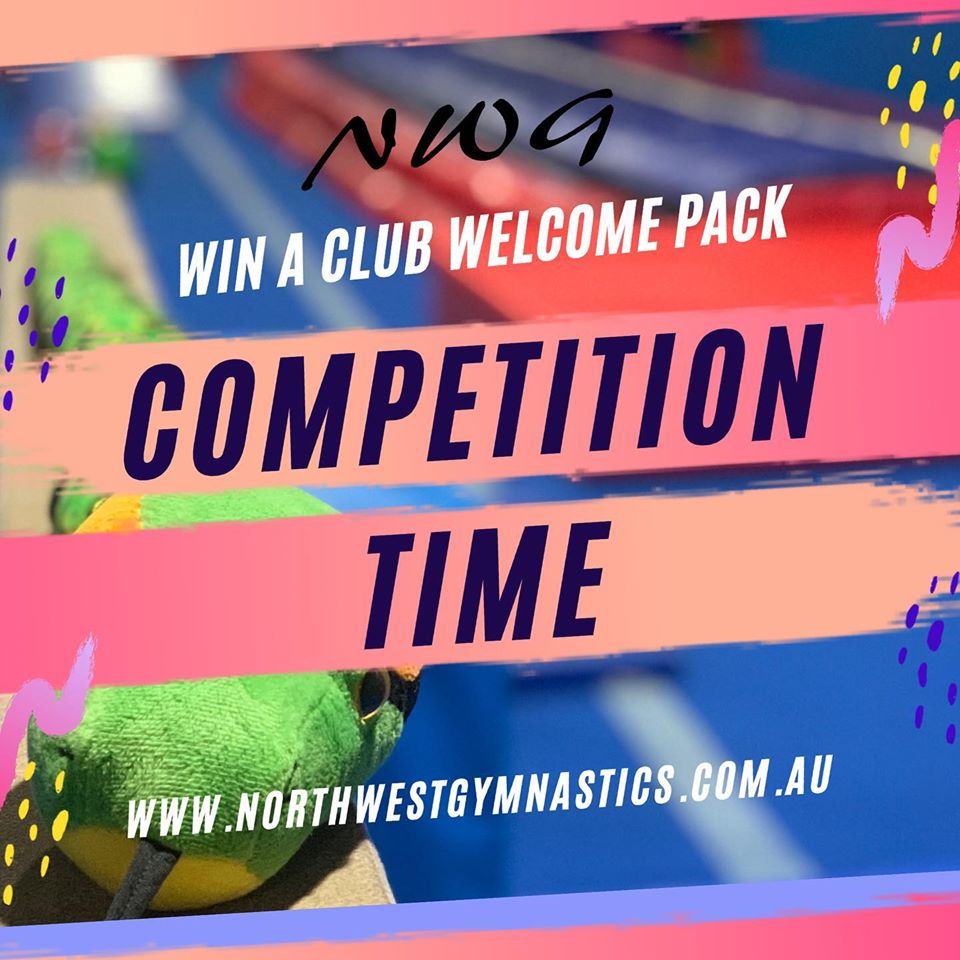 What a way to start the year with our Competition Winners 🤩
🥁🥁 Drum Roll Please 🥁🥁
The Winner of our Unlimited Jungle Gym or Mini Movers Classes for Term 1 2020 is…..
✨✨ Natasha Lee Horwood ✨✨
The Winner of our Club Welcome Pack including Training Leotard, 2020 Membership, Backpack and Drink Bottle is…..
✨✨ Gail Wickham ✨✨
Thank you to all those who entered and keep an eye out for some amazing competitions heading into our Opening Event on the 25th and 26th of January 💕💕
#nwgmountisa #northwestgymnastics #nwgcompetition
---
💜💜 It's Competition Time 💜💜
Win an NWG welcome pack including: 2020 Membership, Backpack, Polo (boys) or Training Leo (girls) and water bottle ✨✨
Simply:
1. Love ❤️❤️ and Share our 𝟐𝟎𝟐𝟎 𝐄𝐧𝐫𝐨𝐥𝐦𝐞𝐧𝐭 𝐏𝐨𝐬𝐭 on Facebook or Instagram making sure we can see it (public on Facebook).
2. Tag 3 Friends in our 2020 Enrolment Post
3. Ensure your Student membership is paid by the 31st December 2019 via: https://www.northwestgymnastics.com.au/nwg-student-membership/
The lucky winner will have this refunded 💫
Oh and yes you need to like our page on FB or follow us on IG (depending on how you enter)
All casual members (mini movers, jungle gym, aerials, acro flight, adults) and confirmed Term Class members welcome to enter.
Drawn 1st Jan 2020
#nwg2020 #nwgmountisa #northwestgymnastics #mountisa #mountisakids
---
You can find information on Our Classes here, including our Timetable and Calendar and Club Handbook.
For enrolments and class bookings please see our Parent Portal.
Birthday Parties can be requested via our Website
Make sure you follow us on Facebook or Instagram to stay up to date with News, and Events.
Mount Isa Mining Supplies - copy
Accor Feel Welcome North West Gymnastics Mount Isa NWG Sponsor - copy
Procoat Logo NWG Mount Isa Gymnastics nwgmountia
local search logo NWG nwgmountisa mount isa north west gymnastics little legends - copy
Vida Images NWG nwgmountisa logo mountisa
ibis styles NWG North West Gymnastics Mount Isa nwgmountisa Accor Hotels - copy
MIPAC Support for North West Gymnastics NWG Mount Isa - copy
Cava Hydraulics and Auto Electrics
NWG Gymnastics Mount Isa BARKLY HIRE LOGO
Roger Locke Mount Isa Logo - copy
Health Fist Group Mount Isa - North West Gymnastics
Mount Isa Mining Supplies
Accor Feel Welcome North West Gymnastics Mount Isa NWG Sponsor - copy
Procoat Logo NWG Mount Isa Gymnastics nwgmountia
NWG Gymnastics Mount Isa BARKLY HIRE LOGO - copy
MIPAC Support for North West Gymnastics NWG Mount Isa
Accor Feel Welcome North West Gymnastics Mount Isa NWG Sponsor
Mercure Hotels Townsville North West Gymnastics Mount Isa
local search logo NWG nwgmountisa mount isa north west gymnastics little legends
Cava Group Logo website 450
Cava Group Logo website 450
#nwgmountisa #northwestgymnastics #mountisagymnastics #mountisaacro #mountisatumbling #mountisaacrobatics #nwg #mountisa #gymnastics North West Gymnastics Mount Isa