We love our sport and the teaching of safe technique in a fun and safe environment. We have endless options, equipment and resources to ensure that skills are taught progressively in a safe way with a focus on technique and the appropriate physical preparation.
Please note given Government Restrictions NWG is Closed from 12:00pm on Monday the 23rd March until further notice.
Please See our Suspension of Classes Advice here.
We will continue with Term 2 re-enrolments in the meantime pending advice on re-opening. We are offering our existing Term based Students a Loyalty Bonus for sticking with us during these uncertain times.
You can find details on our Competition Season here.
Learn more about The Benefits of Gymnastics here.
North West Gymnastics Pathways
(click the image to expand or save)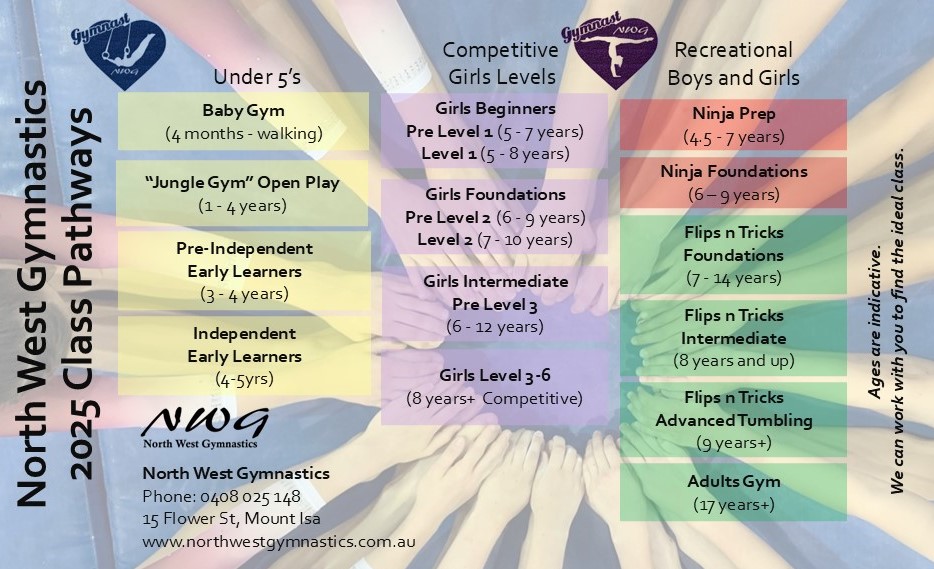 Class Timetable – 2020 Term 1
(click the image to expand or save)
North West Gymnastics Class Details
Under 5's Programs
Our under 5's programs are Fun and Educational. Mount Isa Teachers have praised us for the positive influences our classes have on the Kids in School and in settling into School.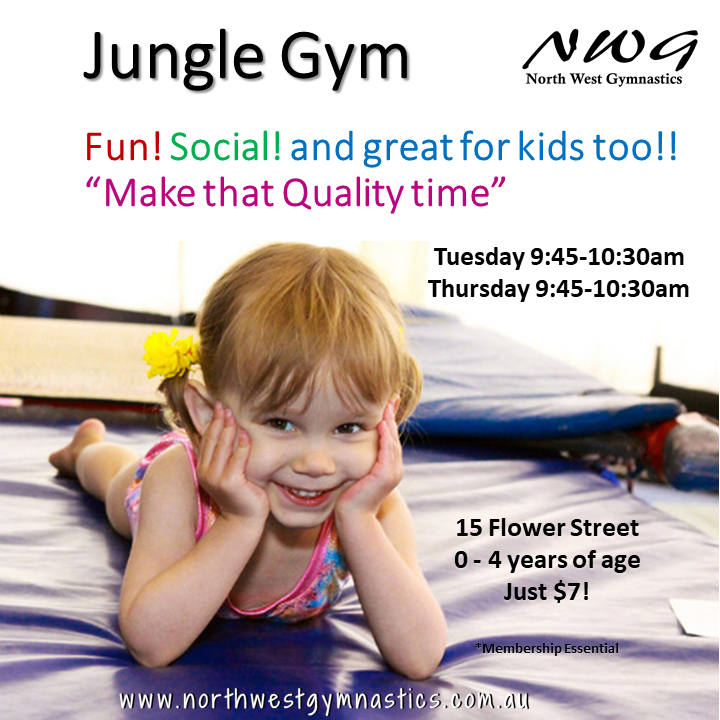 ---
Fun and Recreational Classes
Fun and inclusive gymnastics programs where kids learn fundamental movement, independence and a heap of life skills. Pricing indicative only, class prices reduce as contact hours increase.
Activebods Gym Skills (Age 5-12 years),

A Fun and entertaining recreational program which uses the whole gym and all equipment (Trampolines, Ropes, Bars, Floor, Beam, Air Floor, Rock Climbing and More) to develop fundamental skills, technique and fitness.
A Term based program at approx. $20 per 1 hour class.

Boys Foundations (Ages 4-6 and 6-8 – 2 Separate Class Options)

For Boys with Energy to Burn. Incorporates Trampoline, Ninja, Air Floor, Bars, Ring, and much much more!!
A Term based class at approx. $20 per 1 hour class.

Boys TNT – Tramp Ninja and Tumbling (9 years and up)

For Boys with Energy to Burn. Incorporates Trampoline, Ninja, Tumbling, Parkour and more!!
A Term based class at approx. $25 per 1 1/4 hour class.
North West Gymnastics Offer Family Discounts for Families with Multiple Kids in Term Classes.
---
Competitive Programs
We pride ourselves on offering the highest quality competitive gymnastics program in the region. Our WAG (Women's) and MAG (Men's) programs are the foundation for what we love and do.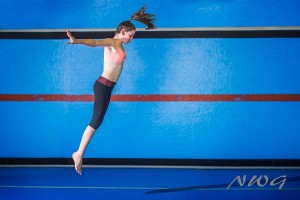 ---
Personal Training
Work with one of our qualified coaches to zone in on specific areas or polish skills and techniques. We hold accreditations in Advanced Women's and Men's Gymnastics, Acro Gymnastics, Tumbling, Acrobatic Arts, Sports Coaching and more.
Open to all sports, athletes, dancers, gymnasts and more.
We customise programs to suit your needs.
Please Contact Us via email or Messenger to arrange or discuss what we can offer.
1 person x 1 hour $35
2 People x 1 Hour $40
1 Person x 30min $20
---
Birthday Parties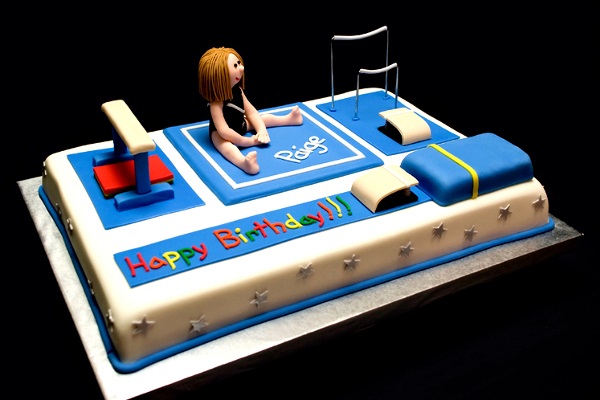 We love to host Birthday parties and can adapt to accommodate exactly what you are after for any age. You can find more information on our Birthday Parties here.
All our parties are supervised by trained and accredited coaches.
Open/Free play or Structured activities can be accommodated.
---
Private Functions
Please Contact Us via email or Messenger for info should you wish to utilise our venue for a private function.
---
Other Offers
Our venue offers something for the whole family from Boot Camps and Personal Training through to a variety of dance and circus activities.
Check out more information on Our Partners here.
---
Quick Links and Active Programs
#nwgclasses #nwgpathways
---
You can find information on Our Classes here, including our Timetable and Calendar.
Make sure you follow us on Facebook or Instagram to stay up to date with News, Events and Programs
#nwgmountisa #northwestgymnastics #mountisagymnastics #mountisaacro #mountisatumbling #mountisaacrobatics #nwg #mountisa #gymnastics North West Gymnastics Mount Isa